Paul Morgan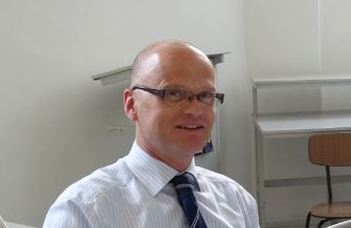 A positive outlook on life: Interview with Paul Morgan
Could you tell us about your childhood? You mentioned that you grew up in a rural area, on the border of England and Wales. Did it affect your work ethic or later life?
Interesting question, I suppose yes. For me, growing up on a farm meant that work was never seen as work, only as a thing that had to be done: animals to be fed and so on. My father said to me, whatever age I was, we are moving the cattle to fresh pasture in half an hour. He would never say "Can you come?" It was never work, it had to be done. So I suppose that work is easy. What is work? My father would always say, every day is a holiday, whether he took a holiday or not. That was his philosophy. Looking back on the partnership with my father and uncle, what they managed to do in a day was amazing, from running a farm and all that it entailed. The energy levels he had as a farmer and everything else beside that is amazing, it definitely affected me.
What kind of schools did you go to and where, what is your profession?
We still do not know, trying to figure it out. Call it "ezermester" in Hungarian, but at the heart of it, I am a teacher. After the university I worked as an economist in London, that was my first job, but it was not for me. I wanted to go back to dealing with people (having done some teaching before), and that is what prompted me to leave that line of work and London, and go to Frankfurt with a two-year contract to teach and translate. I did an MA in teaching, that has dominated since then. I love training as well, which I did in Hungary, Malaysia and Singapore as well. But that takes a back seat with ELTE of course.
What kind of jobs did you have before ELTE FTT?
After London, an economist in Frankfurt that led to Greece, where I taught German for 1 year in Heraklion, Crete for pre-university students, which was demanding. Then Hungary, from where we went to Malaysia and Singapore with my wife who was my girlfriend back then. It was a big challenge to start from nothing (finding an office, training a team). Then we came back to Hungary.
I also have a company besides ELTE, I have run a series of courses (presentation, negotiation skills in English), long term relationships with some companies, the likes of Nike, Cári-Hungaria, MOL, where everything is involved: teaching, one of special programs, interpreting, translation, the whole package. I have met a lot of interesting people and real cross-section companies in Hungary in the last 10 years.
How come that a man from the UK ends up teaching translation and interpreting at ELTE FTT?
One of my friends at university was half Hungarian, we agreed that I would visit him, but we never made it. Then, I went down the next summer with a cousin, and I liked this place. I had a couple of contacts and job offers, I also had a chance at a scholarship linked to my studies, so in the beginning it was all about gaining experience and my curiosity to move here, see and learn more.
About Hungary: there is something in the air, not only the fact that I am married here. Something attractive. We lived in Asia (Malaysia, Singapore) but we missed to be in Hungary, Budapest, missed a good lángos, there are many beautiful places here that I always liked. I would miss it if I could not come here anymore. I love the places, friends, my family and life in general here. A mixture: the people, culture, atmosphere.
What is your favourite activity at the university? There is variety, a cross-section which I like, different courses in all three years (first year students then szakfordítás then EMCI). If I had to choose one, it would be teaching a first-year class because you mould the people and at the end of the third year the jokes are the same, so it becomes boring. Jokes aside, there is something special about first the year students and class, to see and help them develop.
What is it that you love so much about teaching? Is your teaching style conscious, hoping that knowledge sticks better this way?
Ultimately, I want students to enjoy and learn. It could be a rainy day, so students will not always be in a good mood, but I want them to learn something new every day. It is the most important, to develop and help them learn, that is the bottom line. If it comes across in good mood, where humour is involved, then that is a bonus, but ultimately the goal is to learn and to help students reach their goals, to get across material to students.
You are very knowledgeable, what is more, you have the capacity to be really funny, and mix the two amazingly well. Does it come naturally to you?
I do not know. Maybe… If I am considered funny… It is something in the genes, in the background. Knowledgeable: I hope so, I am always learning. Right now, I am reading up on German mythology and I recently had an Italian class. It is important for me to pass on knowledge.
What languages do you speak, which languages do you use in your professional life?
To be very strict, Hungarian, French and German and Latin in school. German goes all the way back to school, up to university, I got my degree in German and Economics. I also studied economics in German at the University of Hamburg. French, I learned from 5 to 21, but no need to tell you, if you do not practice, you forget, so that is what happened with French. Beyond that I had a Japanese lesson for 3 years every day in Asia. It got to a point where I was not bad, it was interesting for me. My favourite languages are Hungarian and German, Italian is also beautiful. I had intensive Spanish for quite some time as well, but I do not use it nowadays.
How many places have you been to?
Hungary, Madrid, London, Greece, Germany, Malaysia, Singapore, North America, Canada and Africa.
Do you translate/interpret (regularly)?
I am still doing translation today but not that much. On a basis of once every two months. Just because of company contacts or because it's interesting, to practice.
Interpreting, the last was at Nike. Over the years I interpreted from German and English and reverse. From Hungarian to English, every few months, again, due to company links.
I translate mainly, but it is nice to see the whole picture, it is a complex process, both are important. I prefer interpreting as it is more interesting and enjoyable for me, but a little bit of translating is good because of the accuracy.
Do you feel stressed sometimes? How do you cope with that?
Not really, I do not feel stressed as such. Handling it: I look on the bright side, think positively. I enjoy what I am doing so I do not see it as a problem or a source of stress. I just take a positive attitude, everything is relative. Life is easy, only we make it harder. Plus, if you have health, that is the most important, everything else is a bonus.
It is obvious that you are on good terms with yourself, you are energetic, in peak condition. What is your secret?
I do not know. I think it is in the genes. Growing up on a farm with the parents, the genes, the thinking, the family, they definitely played a role. To come from the countryside and have those values is nice, it all goes back to the farm in many aspects. I am also happy to do what I do. I like to give a production, not to be the centre of attention but to get results and educate. I like pushing people, because if I push them, I push myself as well.
What is it that you like to do in your free time?
Today for example I go for my son to pick him up at school. Then I will go for a run, just as yesterday. I will do 15 kms today. I do a lot of running, with Nike as well: Ultra Balaton in the most modern Nike outfits. I have done a lot of football back in the days. I love cycling as well. Spending time with family is also important. I love to get off the internet and have a real book in my hands: biography, history, fiction… I love cross-section, mix it for the information or style of writing, and of course the smell of books.
What are the three most important things/words of wisdom that you hold true in your life (based on experience)?
Love and be loved.
Hard work pays off in the end, regardless of talent. There is no substitute for hard work. It enhances people's chances in the long run and life will be much easier later.
Modesty and humility. Nothing is worse than over-confident people. Be super confident, because you have to sell yourselves, be brilliant, the best, but modest at the same time. It is a far more important message overall.
Is there something you would like to say to the students(to-be)?
My message is this: learn as much as you can. Maximize your knowledge at this stage of your lives. Keep an open mind. Do what you want to do, aim at it. Sooner or later, but not too late. Because otherwise you will not be happy.